Scrum Master Training Online
Participation in the Scrum Master training is:
three days of practice through active exercises
complete preparation and complimentary voucher to the Professional Scrum Master I exam from Scrum.org
demonstrations of the group activities, events and practices
many examples of Scrum in companies
how to implement Scrum
the highest quality of training confirmed by 4.5 thousands of participants
coach support after training
unlimited returns to training at no cost.
Scrum Master Training January 23rd-25th 2023.
Among the participants were employees from companies like Accenture, Adobe, Credit Agricole, Capgemni, Deloitte, Dolby, Global Logic, IBM, Nordea, Tieto, T-Mobile, Toyota, Unilever, Unit4, Volkswagen, Volvo.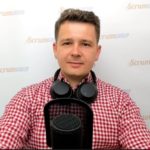 Scrum Master training is a unique opportunity to gain valuable experience with Scrum method. Scrum training is conducted by Sylwiusz Pytka – Scrum Trainer, Scrum Master and expert trained by the creators of Scrum in the heart of Scrum – Boston, United States. Scrum Master Training is a three -day adventure with Scrum, where you can learn best practices, hear tips and insights to share. Classes are conducted in the form of workshops, sessions divided into short lectures, games and exercises newly recognized elements. During the training, participants will also learn news and trends about Scrum.
After training participants will be able to:
Carry Scrum meetings (Sprint Planning, Daily Scrum, Sprint Review, Retrospective)
Estimate the complexity of the PBI's with story points using the Planning Poker method
Plan duration of the project
Learn about the dynamics of teams and mechanisms of management and motivation
Function in self-organizing Scrum teams
Characterize elements of Scrum (Artifacts, Event, Scrum Team)
Scrum best practices
Scrum Master training modules
Agile and Agility
Scrum Framework
Product Backlog
Estimations
Scrum Team
Definition of Done
Events
Who is this training for
Scrum training is aimed for:
Scrum Masters and those aspiring to this role
Scrum Team members
Line managers
Project Managers
Customers of agile teams
Those interested in the effective use of Scrum
Duration: Three days from 9 a.m. to 2 p.m. CET
Price
Training cost is 390 euro NET
Exam voucher 150$ net
Scrum Master Training January 23rd-25th 2023
Interested in training in your city, company send email info@scrumgroup.org